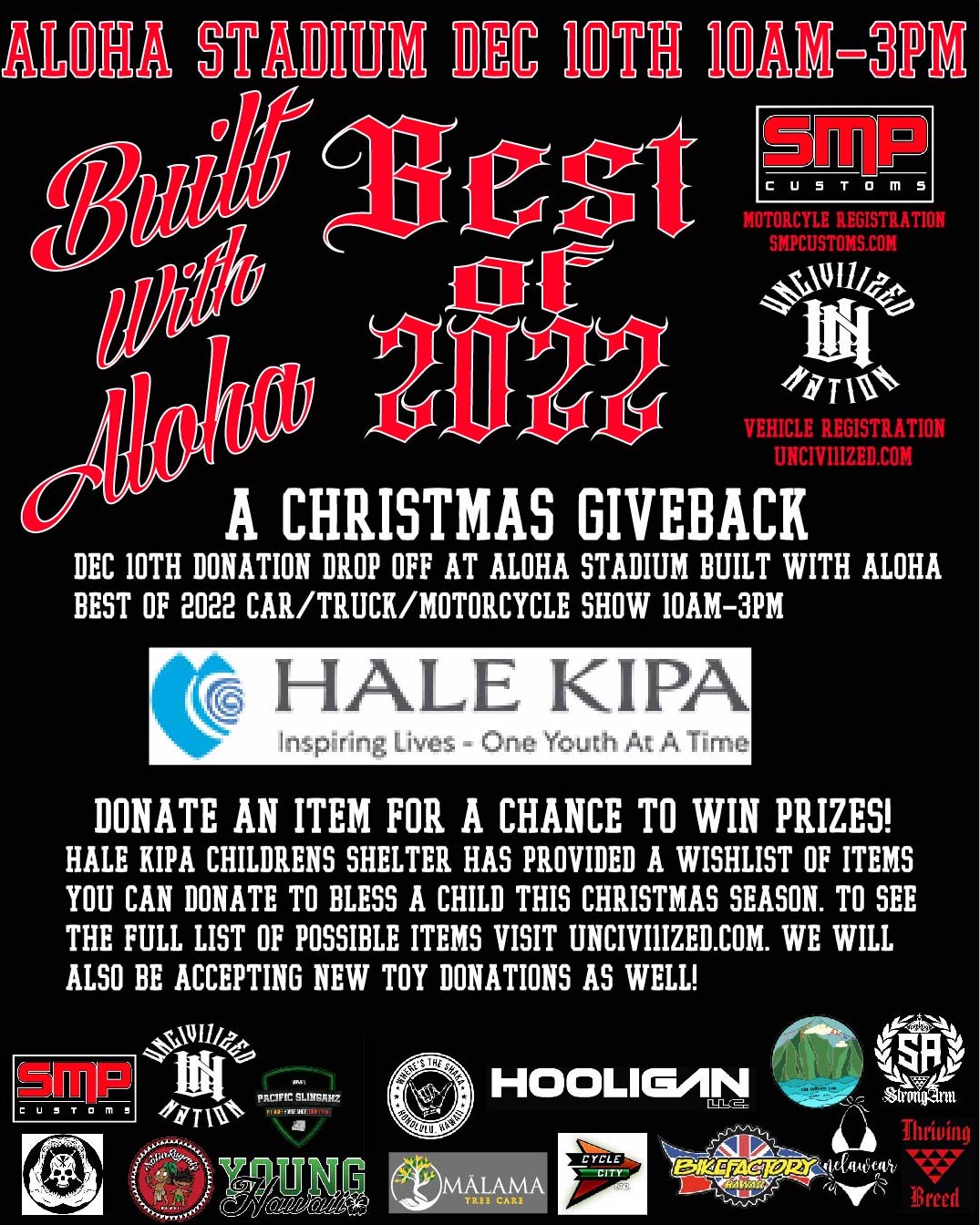 HALE KIPA DONATION WISHLIST
Hale Kipa's 2022 Holiday Wish List
My Home Kit – Items that help personalize a youth's living space imparts a good feeling of ownership and self-worth.  Any combination of suggested personalizing items:
My Bedroom Kit – Bedding set (twin size fitted sheet, flat sheet, pillowcase), throw pillow (great for hugging), bedroom rug, nightlight.
My Dining Room Kit – Dinnerware set (microwave safe preferred), flatware set, drinking cups, flower vase.
My Bathroom Kit – Bath & hand towel set, shower curtain, bath rug, bathroom organizer, hairbrush.
Clean Home Kit – A small collection of cleaning supplies helps and encourages newly independent young adults form good habits in maintaining their new home.  Any combination of suggested cleaning items for specific areas of their home:
Kitchen Kit – Dishpan, dish soap, mild abrasive cleaner (e.g. Comet), sponge/scouring pad, paper towels, anti-bacterial wipes, trash bags.
House Kit – Bucket, Swiffer duster, dustpan/brush/broom, microfiber cloth, all-purpose cleaner, carpet spot cleaner, vacuum, Goo Gone, Magic Eraser.
Laundry Kit – Laundry bag, detergent, fabric softener/dryer sheets, quarters for laundry machines.
Bathroom Kit – Bucket, mop, rubber gloves, toilet brush, scrub brush, disinfectant cleaner, glass cleaner, air freshener.
Clothing / Accessory – For young children, teens, and young adults.  Appropriate unisex designs and styles are preferred as they are easier to distribute across the diverse individuals that seek assistance.
Tee Shirt – All sizes.
Jeans – Durable and fashionable.  All sizes.
Surfwear – Such as board shorts and rash guard tops.  All sizes
Hoodie Jacket – Great for keeping warm and dry.  All sizes
Footwear – All types especially walking shoes. All sizes.  Socks in all styles.
Water Bottle – Insulated water bottles helps keep the active youth hydrated.  (Hydro Flask, Yeti, Fifty/Fifty, etc.)
Backpack – A great accessory for the youth that's on the go. For street youth, the backpack is an essential article that keeps their limited possessions organized and secure.
Gift Cards – Gift cards are versatile, easy to carry and allows the recipient to select exactly what they need at any given time.  Having a youth select their purchases empowers and gives them a sense of control in their lives.
Grocery Store - Most of our young people are low income, some are homeless, and any food is helpful.  Those with homes and families can buy a turkey, ham and some fresh vegetables for themselves and their families. (Times, Safeway, Foodland, Sack n Save, etc.)
Coffee/Beverage Shop - Meeting over coffee or a cold drink is a luxury that helps youth feel normal in a relaxed environment that's comfortable for them. (Starbucks, Coffee Bean, etc.)
Prepared Food - Gives youth a chance to eat out like normal young people, a chance to meet in an informal social setting over food or snacks without being dependent on others to buy food for them. (McDonalds, Taco Bell, Pizza Hut, Panda Express, Wendy's, Pizza Hut, Burger King, Zippy's, etc.)
Department Store - Young people can purchase needed items for their home, school, personal hygiene, or food items. (Walmart, Target, Longs, Ross, TJ Maxx, Marshalls, etc.)
Bus Pass – Helpful for youth that are on the go.  For getting around and for getting to and from school and appointments.
Entertainment – Movie tickets to theaters such as AMC, Regal, and Consolidated.
Cell Phone with Pre-paid Minutes – Give s young adults without the funds the ability to be contacted by health providers, potential employers, and family.
#CIVI1IZATIONZERO
2021 UNCIVI1IZED NATION EASTER GIVEBACK

AFTER 2 YEARS OF COVID LOCKDOWNS WE CAME TOGETHER AS A COMMUNITY AND HOSTED AN EPIC EASTER EVENT WITH OVER 500 ATTENDEES! THE KIDS AND ADULTS ALIKE HAD A BLAST. COULDNT HAVE HAPPEND WITHOUT THE GENEROUS DONATIONS FROM THE COMMUNITY!

SHOP

UNCIVI1IZED NATION TRUNK OR TREAT!

definitely one for the books! we packed that parking lot with gouls ghost and goblins for a fun filled event! the community came out and decked out!

2022 UNCIVI1IZED NATION BSIDE AT THE HARBOR

NOTHING BUT ALOHA FROM OUR ALL KANAKA LINE UP CONCERT VENUE! HAWAIIAN SOULJA WAS IN THE HOUSE ROCKING THE STAGE WITH JRAGGA, SONS OF YESHUA AND HOMESTEAD POI! COMEDY BY MAGIC MIKE AND ONO GRINDS WAS ON DECK! VIP TICKETS LUCKED OUT WITH A TROLLEY RIDE AND SUNSET CRUISE ON THE BAY FOLLOWED BY A EPIC FIREWORK SHOW!
JUST ANOTHER FAMILY TRYING TO MAKE IT HERE IN HAWAII
What is UNCIVI1IZED NATION?

WE USE WORDS SUCH AS INSANE KILLER OR DOPE BUT THAT DOESNT MAKE US KILLERS OR LUNATICS! DONT TAKE IT SO PERSONAL UNCIVI1IZED IS JUST ANOTHER WORD TO HOLD SPACE FOR A MOVMENT.
WHAT IS THE UNCIVI1IZED MOVEMENT?

THE UNCIVI1IZED MOVEMENT IS TO ENCOURAGE OUR YOUNG ONES AND PEERS ALIKE TO GET OUTSIDE AND DO SOMETHING! WE USE OUR INSTAGRAM TO PROMOTE PEOPLE AND SHARE WHAT EVER IT IS THEY PRIDE THEMSELVES IN WITH NO DISCRIMINATION! MOST BRANDS STICK TO THE NEAT AND PRETTY AND MOSTLY PROMOTE ONLY THE BEST!.. HERE WE FEEL THAT EVERYONE SPEAKS A DIFFERENT LAUNGUAGE AND IF THATS YOUR TRUTH THEN WERE ALL FOR IT! NOTHING BUT POSITIVE VIBES AND ALOHA ALWAYS!